Self-service is here... now you and your customers can have it too!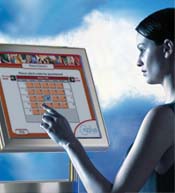 TouchTrak software is a powerful web-based engine that brings self service capabilities to just about any business without the need for expensive custom programming. Examples of solutions that have been successfully deployed using the TouchTrak application include:
TouchTrak also features a powerful on-line administrative tool that makes it very easy to set up, maintain and monitor your self-service application remotely over the Internet! With this tool, simply construct your series of data collection questions from pre-designed question templates included. Within a few minutes your application is complete and ready to run on any touch-screen computer device running a web browser. TouchTrak can be easily integrated with your existing core back-end application using XML, HL7, web service and other standard data exchange protocols.
Click on one of the industry categories to the right to see how TouchTrak can be easily configured for a wide variety of interactive self-service and kiosk solutions for healthcare, retail, commerce and academia applications.
We use the ABCpdf ASP PDF component for HTML to PDF conversion